Order Status Definitions & Process
For the Lab side of the PhoenixLIS system.
If you cannot find the answers you are looking for on this page, we welcome you to reach out to our support department
Receive
Orders that have been sent to you from the Portal side will need to be received on your end. View all submitted orders here, and choose which action to take: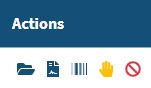 Folder Icon:
Receive the Order: Mark that your lab has received the order. This will move it to the Result stage.
PDF Icon:
View the Requisition Form that was supplied with the order.
Barcode Icon:
Print the barcode for this order. Tip: you can select multiple orders and print all their barcodes at once with the bulk operations.
Hand Icon:
Halt this order. You'll need to provide a reason why the order needs to be halted, which will notify the appropriate staff member related to the order.
Cancel Icon:
Cancel this order. You will be prompted to provide a reason for the order being banned, which will be sent to the associated contact on file.